LUXURY NATURAL BATH & BODY PRODUCTS
PATENTED soap saver pocket will securely hold your soap so it won't slip from your hands. You'll avoid unnecessary bending and back strain.
NATURAL pine beads will pamper, massage & relax your body and soul.
ARTISANAL honeycomb weave fabric lifts dead skin cells, promoting new healthy radiant skin.
EXFOLIATION will help unclog pores and draw out impurities, creates a radiant glowing complexion.
EXTRA long, 45 x 4 1/2 inches, adjustable handles, contours across your back, body, legs & all those hard-to-reach areas!!!
DRIES QUICKLY, rinse then hang to dry.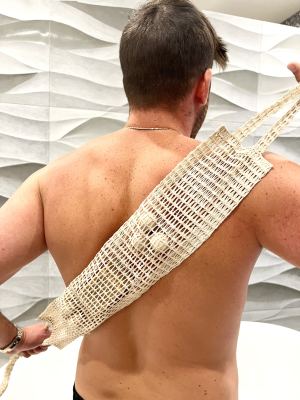 Men love the Back and Body Band too!
Receive 10% OFF on your next purchase!
Use code:
LISA
Enter the code on checkout. Discount applies on all products.
Send as a gift, elegant gift-wrapping available at checkout.
Start your Spa experience now!
Add water to the Back & Body Wash Band, pour gel soap or insert your favorite soap into the patented pocket. A luxurious soap lather will begin.
Gently rub then glide across your back, body including all those hard-to-reach spots.
Our EXCLUSIVE artisanal honeycombed fabric is mold & bacteria resistant. When finished, simply rinse then hang to dry.
Dries quickly, is ready to use again in no time!
Back & Body Wash Band will make you feel remarkably clean & refreshed.
Lightweight, durable and compact…it is a perfect gift for everyone!
Take a look at our beautiful packaged gift sets.